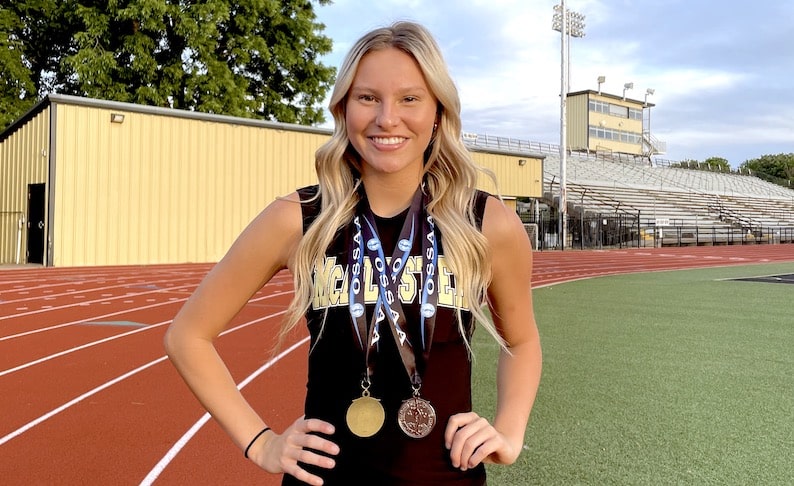 "Champions do not become champions when they win an event, but in the hours, weeks, months, and years they spend preparing for it." ~ Michael Jordan
To Jalen Spears, these words are more than an inspirational quote. For the talented multi-sport athlete, it's her personal commitment to find success, in sports and in life.
"I strive every day at taking hard work and dedication to another level to be better today than I was yesterday," explained Spears. "I want to be all in! So, that sticks with me for everything I do in sports and in my everyday life."
After doing her part to help the Lady Buffaloes win the Class 5A girls state basketball championship, "J-J" continued her quest for excellence during the spring track season where as a junior she claimed the silver medal in the 300m hurdles with a personal best time in the finals and a fourth place finish in the 100m hurdles at the Class 5A track championships.
"I absolutely love running," proclaimed Spears, who qualified in both events for the 2021 state track championships as a sophomore while attending Wilburton High School. "I think my drive and determination at improving my times with a shot at being a state champion in the future fueled my success this spring."
And according to her coach, Spears' fire and true grit are what sets her apart from other athletes.
"Jalen's work ethic is why she's a winner," replied McAlester girls track coach Brady May. "Her commitment is infectious within our team. Jalen doesn't accept an average effort. She pushes herself to be better every day as well as everyone else around her."
The words of her coach give further proof to how Spears defines herself.
"I'm outgoing and competitive for sure, but most of all, I'm driven. To be a champion, you can't ever give up. You refuse to accept defeat or disappointment," replied the McAlester standout. "I've had to overcome mental blocks and change the way I do things in most areas of my life to become as good as I want to be. Being a champion also means being part of something bigger that just yourself."
While the 2021-2022 school year resulted in moments of gold and celebration, Jalen Spears wants even more opportunities for victory for her teammates, her school and the McAlester community.
"Good character is important in every aspect of life. In sports, I believe strong moral character encourages teamwork and wanting to see others succeed, not just you," expressed the McAlester senior-to-be. "I also think your character brings you through hardships and adversity in life in a way that reflects who you are deep down. Strong moral character, selflessness and work ethic are the parts of my character I most hope shines through me in anything I do."