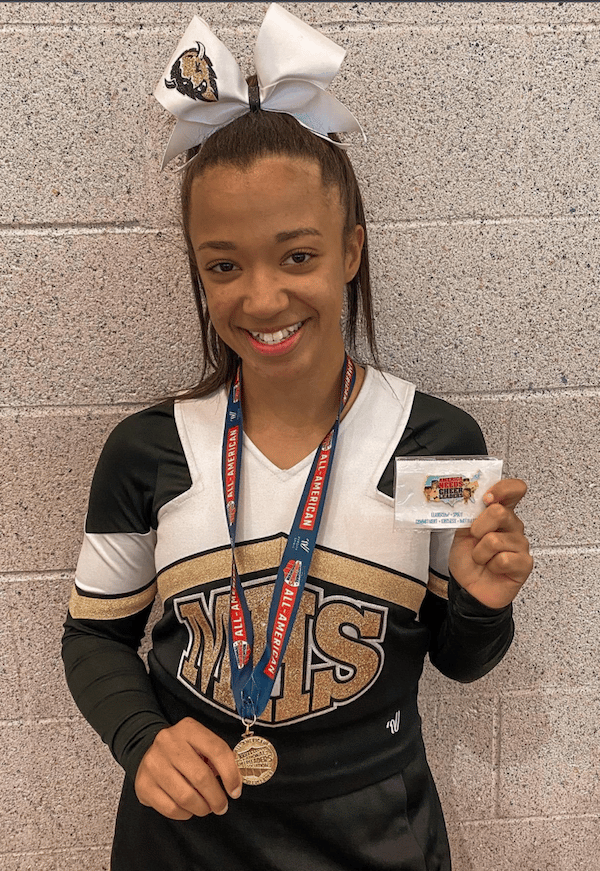 Lexi Watts is a junior at McAlester High School, a two-year member of the varsity cheer team and carries a 4.0 GPA academically. She is also an All-American cheer leader and helped the Buffalo cheer team to a fourth-place finish recently at the NCA Nationals in Dallas. But the real story is how Lexi got to this point.
"I was born with minor scoliosis and so my mom put me into tumbling hoping to make it better. I started competitive cheer soon after, but the scoliosis only got worse. I was scheduled for surgery in 2018 to fix it but found out just before that I also had a tethered spine and that would have to be repaired first or I could end up paralyzed. So that surgery was successful, but I still have to deal with the pain of the scoliosis until after I am done with cheer."
And as you listen to Lexi talk about the physical demands of cheer you might wonder how she copes.
"Cheer involves so much physical activity and a certain amount of strength just like any other sport. For me to be successful it has taken 12 years of competitive cheer, two years of varsity cheer and rehabbing from a back surgery, but I feel like that only made me come back stronger."
Describing herself as dedicated, joyful and a leader, Lexi is focused in on the leadership aspect.
"To be a leader you have to step it up to a whole new level. You have to put in extra work and also be dedicated and joyful. It's not about being in charge but more about being responsible for other people. You have to be selfless and make decisions that are best for the team. You have to stay consistent for your team no matter how uncertain you are."
Joyful might also be a good word to describe what Lexi feels is the best part of cheer for her.
"My favorite part of cheer is definitely all the little girls who look up to me, seeing them get so happy about me being a cheerleader makes me want to get even better."
It's easy to see the values that Lexi puts in her life as she talks about character.
"To me character is when you are put to the test and are failing and how you respond to your failure. That's important because you can't have good character only when things are going good."
Lexi's goal for next year is to return to nationals and place even higher while living by her adopted motto: "Lead from the heart, not from the head."